2015 Mazda6 for Sale in Madison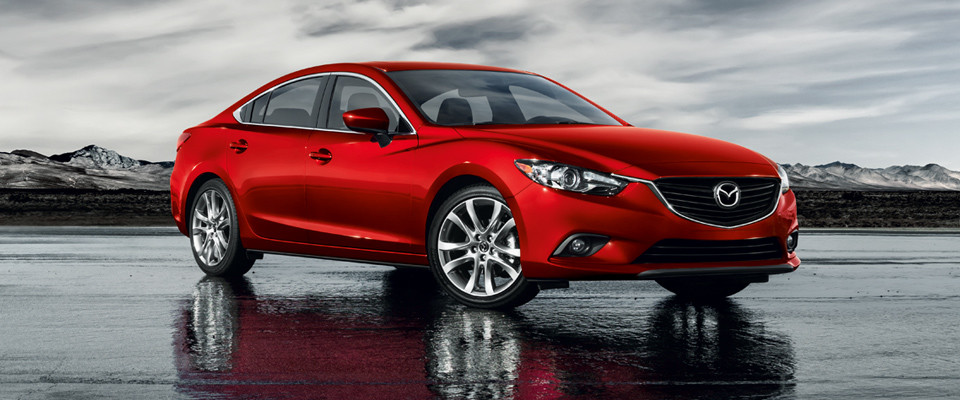 View 2015 Mazda6 Inventory
2015 Mazda6 for Sale in Madison
When a car modifies its exterior, it's worth a glance. When a car modifies its interior, it's worth sitting in. When a car becomes more efficient, it's worth a test drive. When a car reinvents everything from the ground up, from the inside out, and a new shade of red is invented for this car, it is worth driving home. The 2015 Mazda6 for sale in Madison is that car.
When we say that the 2015 Mazda6 has reinvented everything, we are talking about Mazda's SKYACTIV® TECHNOLOGY Technology. This technology is the holistic, ground-up approach to reengineering all the components of the 2015 Mazda6 to be more efficient, have lower emissions and better performance. Everything from the engine to the transmission to the structure of the Mazda6 has been improved to make a better car.
Speaking of the engine, the Mazda6 is powered by an efficient 2.5L SKYACTIV® TECHNOLOGY -G engine that will not only give you 184 horsepower and 185lbs-ft of torque to get you going, but it will also deliver 40 MPG[1] hwy so you can go further on less. Add the SKYACTIV® TECHNOLOGY powertrain and six-speed transmission for smooth and precise acceleration and gear shifts, and you have a very impressive system under the hood.
Mazda didn't stop at creating one whole new system to make more efficient cars, they created two. The i-ELOOP system is a new and unique system that helps harness the energy that is normally lost then you release the accelerator. Now the Mazda6 is able to story the extra energy and momentum and use it to power other components in the car, such as AC or navigation. This makes the Mazda6 more fuel efficient by up to five percent[2].
Bluetooth® is the best way to stay connected on the road. It allows you to stream phone calls, music, and texts through the vehicle's sound system. It even has a Mobile 911 setting allowing it to call the emergency services in the event of an accident. The 2015 Mazda6 for sale in Madison not only comes with Bluetooth® capabilities, but allows you to access it via the steering wheel controls or center console controls.
The Mazda6 also comes with a center touchscreen console that is the center hub for all your media, music, and navigation. This means that you will never be without the perfect playlist nor will you ever have to be worried about getting lost in an unfamiliar city or being late for that movie.
It is clear that the 2015 Mazda6 has taken the latest technology to the next step, so, of course they take advantage of the latest tech in safety. When you drive away with your new Mazda6, you will have a collection of driver assist programs to keep you out of harm's way. These include: Radar Cruise Control[3] that will automatically control the speed of the Mazda to keep a safe distance behind other vehicles. Rear Cross Traffic Alert[4] to help you when reversing. Blind Spot Monitor[4] to give you an extra set of eyes when changing lanes.
The 2015 Mazda6 for sale in Madison has been reinvented with all the best and most efficient technology. Come in to Russ Darrow Mazda of Madison for a test drive today and see why you should be driving a Mazda.
Directions to Mazda Madison
[1] Based on EPA estimates for 2015 Mazda6 Grand Touring models with Technology Package, 28 city/40 highway MPG. Actual results will vary. SOURCE: 2014 Fuel Economy Guide, December 19, 2013 (www.fueleconomy.gov)
[2] Comparison based on 2015 Mazda6 models with 2.5L engine and automatic transmission and comparably equipped 2014 Toyota Camry and 2014 Honda Accord models.
[3] Mazda Radar Cruise Control is not a substitute for safe and attentive driving. There are limitations to the range and detection of the system. Please see your owner's manual for further details.
[4] Always check your mirrors. Be aware of the traffic around you.
Contact us about the 2015 Mazda6