2016 Mazda6 for lease in Janesville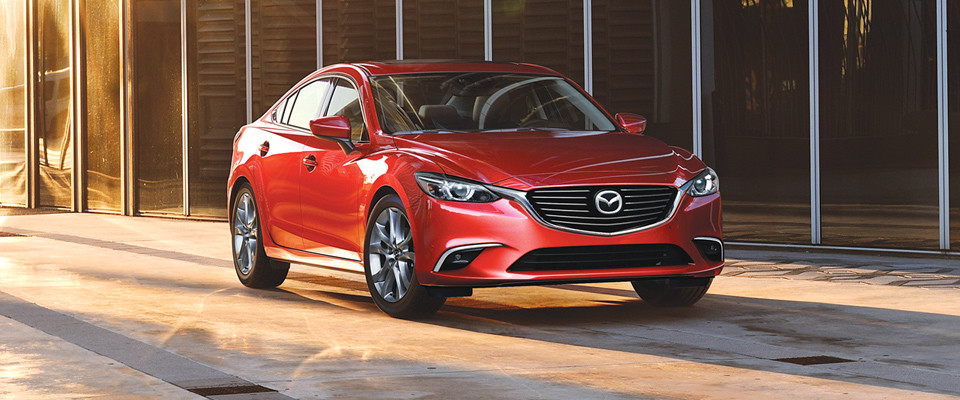 View 2016 Mazda6 Inventory
2016 Mazda6 for lease in Janesville
The 2016 Mazda6 for lease in Janesville is the direct result of Mazda's constant innovation and development. They have refused to plateau in their design, and the Mazda6 shows that. Russ Darrow Mazda of Madison has the new and improved Mazda6 available for lease, and we'll outperform anyone when it comes to service and helpfulness.
Mazda's SKYACTIV® technology is what impresses us most about the Mazda6. The philosophy behind it is to blow away the competition in efficiency, performance and lower emissions. Motors equipped with the technology produce more midrange torque, designed to get you moving while burning the minimal amount of fuel. Cutting edge technology enables Mazda to design a chassis that lighter, yet significantly stiffer. A stiffer chassis gives you more stability, especially at higher speeds and in turns.
Armed with a potent 2.5 liter motor, the Mazda6 logs an efficient, wallet-friendly 40 miles-per-gallon on the highway. Its 185 ft-lbs of torque ensure that you'll have no problem getting up to speed, and no problem having a grand old time behind the wheel - every time you drive.
For 2016, Mazda offers a number of features to keep you safe, no matter the situation. The available Distance Recognition Support System measures the distance between your car and any in front of you, displaying a warning if you approach too close. The Lane Departure warning system keeps an eye out for inadvertent lane changes, alerting you if you encroach traffic to either side.
Available LED headlights and fog lights illuminate the road ahead and do so much more efficiently than your standard bulb. During the daytime, they provide a modern, luxurious accent to the car's already-stunning front fascia. When nighttime comes around, the Mazda6 provides a bright, reassuring beam of light.
The 2016 Mazda6 is available to lease in Janesville. It offers an abundance of features with a base MSRP of only $21,495. We at Russ Darrow Mazda of Madison encourage you to take the Mazda6 for a test drive today!
Directions to Mazda Janesville
Contact us about the 2016 Mazda6