2016 Mazda6 for sale in Madison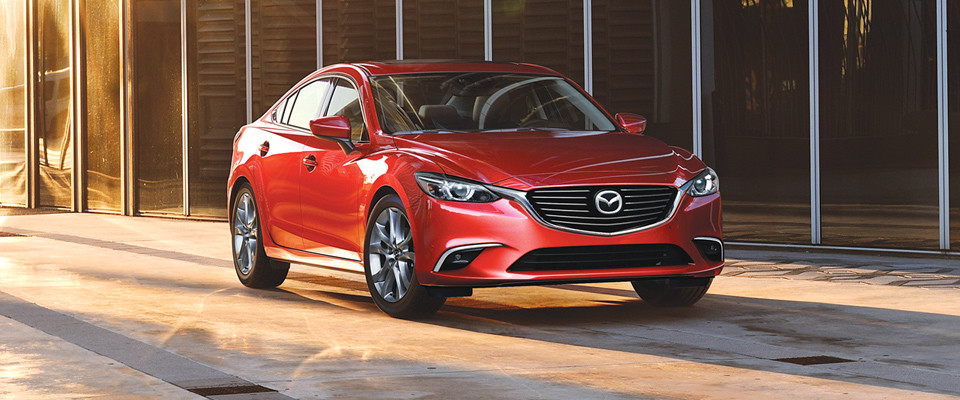 View 2016 Mazda6 Inventory
2016 Mazda6 for sale in Madison
The 2016 Mazda6 for sale in Madison sets the bar for today's 4 door sedans. It has turned its weaknesses into strengths, and it's even more impressive in person. Russ Darrow Mazda of Madison has the new and improved Mazda6 for sale, and we always strive to provide the best possible buying experience.
Its exceptional looks and adrenaline-inducing performance capabilities would mean nothing if the car couldn't protect you when it mattered most. Rest assured, Mazda offers a number of features to keep you safe, no matter the situation. The available Distance Recognition Support System measures the distance between your car and any in front of you, displaying a warning if you approach too close. The Lane Departure warning system keeps an eye out for inadvertent lane changes, alerting you if you encroach traffic to either side.
With available LED headlights, you'll have no problem seeing the road ahead of you. And, all the while, you can do so using the bare minimum of energy, preserving the life of your battery and ballasts. During the daytime, the LED bulbs provide a modern, luxurious accent to the car's already-stunning front fascia. When nighttime comes around, the Mazda6 provides a bright, reassuring beam of light. Well-placed chrome accents help the Mazda6 to separate itself from the pack, and the available Active Grille Shutter opens and closes to improve aerodynamics and fuel economy.
Mazda's SKYACTIV® technology helps the Mazda6 to do more, to continually impress. It goes above and beyond in ways its competitors don't. The Mazda6's 2.5 liter motor manages a very respectable 40 miles-per-gallon on the highway, while at the same time producing enough power to put a wide grin on your face. Its transmission is designed to be ultra smooth without sacrificing the direct feel that many enthusiasts love about manuals. Lastly, cutting edge technology enables Mazda to design a chassis that lighter, yet significantly stiffer. A stiffer chassis gives you more stability, especially at higher speeds and in turns. Win win win.
Its 184 horsepower exceed a number of cars in its class, and its 185 ft-lbs of torque ensure that you'll have no problem getting up to speed. Coupled with a chassis designed to cut through the air and store energy when you lift off the throttle, the Mazda6 is designed to make the most of its power.
The 2016 Mazda6 for sale in Madison offers an abundance of features with a base MSRP of only $21,495. Russ Darrow Mazda of Madison has the Mazda6 available for test drive, and we encourage you to stop by today!
Directions to Mazda Madison
Contact us about the 2016 Mazda6