2017 Mazda MX-5 Miata near Greenfield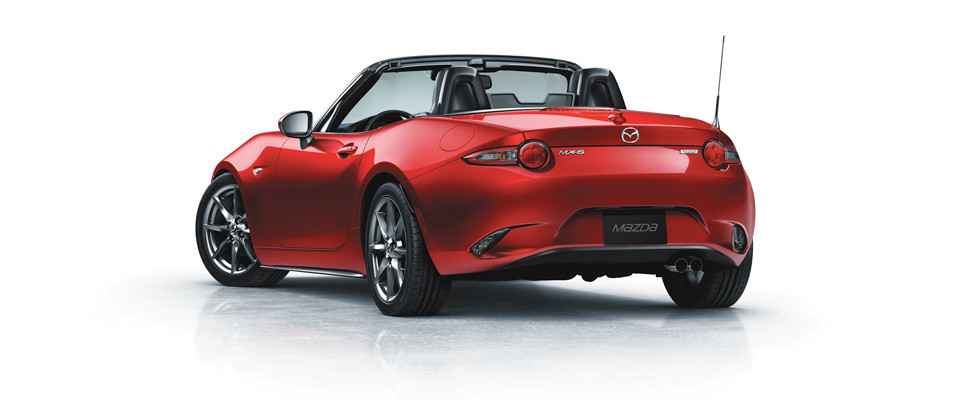 View 2017 Mazda MX-5 Miata Inventory
2017 Mazda MX-5 Miata near Greenfield
The 2017 Mazda Mx-5 Miata available near Greenfield is a sleek, attractive convertible designed to get you around in style. Hard-top convertibles have always been a popular choice, and this latest iteration is Mazda's best version yet.
2017 Mazda MX-5 Miata Vehicle Information
The Miata is a two-passenger car with a spacious 43.1 inches of legroom, and drives as nicely as it looks. The convertible hard-top roof is easily the most popular feature, but the inside is comfortably furnished with a leather-wrapped steering wheel and a premium sound system that combine to give your hands and ears alike a treat when you're driving.
Of course, we all know that texting while driving is dangerous - that's why the Miata also comes with an onboard hands-free communication system, allowing you to keep your eyes on the road and your hands on the wheel even when you have to respond to someone right away.
Vehicle Specifications
The 2017 Mazda Mx-5 Miata near Greenfield offers 155 horsepower at 6000 RPM, powered by a 2.0L, four-cylinder engine. Its 30.8 turning diameter allows it to smoothly navigate corners, while the six-speed manual transmission allows you to take full control of your experience out on the road.
The Miata also offers an average of 30.5 miles per-gallon between city and highway driving, and with the 11.9 gallon tank, that means you can expect to cruise for over 360 miles between each fill-up.
Of course, with such a small vehicle, speed matters - and the Miata smoothly accelerates from 0-60 in just 5.8 seconds, allowing it to get up to speed with even the shortest on-ramps.
Safety Features
Despite its small size, the Miata has managed to pack in plenty of safety features. In addition to must-haves like front and side airbags and electronic stability control, the Miata includes full traction control, auto-leveling headlights, and a blind spot monitor to help you figure out if there are any threats you can't quite see.
If there's a problem up ahead, the four-wheel braking system will help to slow you down before you hit it, while the rear-wheel drive allows you to focus on steering.
If you're ready to see what all the fuss is about, come on down to Russ Darrow Mazda at 5234 High Crossing Blvd in Madison, Wisconsin for a test drive of the 2017 Mazda Mx-5 Miata. Our friendly staff are available to answer any questions you have and help ensure that you're able to drive away with the car you want to have.
Directions to Mazda Greenfield
Contact us about the 2017 Mazda MX-5 Miata